Would you like to learn how to start a blog in the most effective way possible in 2023 and beyond? In this ultimate beginner's guide, you'll learn how to start a profitable blogging business in 10 easy steps.
This guide will effectively show you how to set up a professional blog with basic computer skills.
This is perfect for absolute beginners.
No experience is required at all.
You don't have to know any programming languages such as HTML, CSS, PHP, JavaScript, etc. to get started. This will also work for seasoned bloggers if you're looking for a fresh approach.
You're probably asking yourself why we're writing yet another "how to start a blog" guide when there are so many out in the wild. Well, after reading this article you won't think twice about how your blog is set up. I've read countless blogging guides out there doing my research for this article.
What I noticed is that most of these bloggers don't drink their own kool-aid.
What does that mean?
It means they don't even use most of the products and services they recommend on their blog(s). The reality is that these bloggers make a commission every time someone makes a purchase through their links (I'll talk about this topic later). Some of these companies pay hefty commissions for promoting their products and services.
I'm saying they're just recommending these products and services to make a quick buck.
But aren't you going to do the same thing?
Yes! You're right. But it's not all about the money for me. I genuinely want to help you and whoever ends up reading this article become a successful blogger (we're in this together). The truth is, the more bloggers we help reach their respective milestones, the faster we reach our goals with this blog too.
I'll be recommending products, services, software, etc. as you continue with this article and we may earn a commission if you make a purchase using our links.
We only recommend the best…
When I say you won't have to worry about how your blog is set up, I mean it. Most if not all the products and services we use daily we've been using for many years.
At least 5+ years!
So what does that mean?
It means everything we use and will be promoting in the future is super reliable.
Rest assured that you can count on all the products, services, and software I'll be recommending throughout this guide. I know how fast things can change but my guarantee to you is that this article will always be updated with the latest and greatest blogging information.
I want to save you from a potential headache down the line.
This guide is going to be a little different from what you've read and researched before. You don't know me YET but I promise that it won't be like everything else. It'll be a mix of what you've already read out there and something different.
I'll try my best to debunk some of the misconceptions out there. This is another reason why I'm writing this guide. There is too much misinformation out there. I'll try my best to explain it.
If you get stuck or have questions at any point, simply shoot us a message or tweet me @kennymighty23 and I will do my best to help you out.
Get your snacks and drinks ready. Let's keep going!
How to start a blog in 10 easy steps:
How to choose your niche
How to pick your blog name
Why WordPress is the best blogging platform
Choosing the best WordPress hosting provider
Choosing the best WordPress theme
How to set up your blog properly
How to write your 1st blog post
Best traffic sources to promote your blog
Learn search engine optimization (SEO)
How to make money with your blog
Last introduction:
I'm going to make a strong claim here and now. This is the only blogging resource you'll ever need. I guarantee you that after reading our guide you will save so much dough (💰💰💰). On top of that, you will save so much time and effort. You won't have to figure this stuff out by yourself.
The Simplebutcreative Media team and I will be here for you every step of the way to the very best of our abilities and experiences with blogging.
Think of this guide as a shortcut to your blogging success.
I've been in the internet marketing space for over a decade 🤯. The team here at Simplebutcreative Media has developed such a thick skin (skin in the game) being in the digital trenches for so long. We have a lot of experience to share with you.
This guide is a culmination of all our trials and error for over 10 years. Your mind will be blown away by the amount of time, effort, and money spent in the last several years learning and combining all of this knowledge into one ultimate guide.
My goal with this guide is to help you make the best decision and steer you in the right direction when it comes to starting your blogging business.
That's everything from choosing your niche, what is the best WordPress theme(s), the best web hosting provider, the best traffic source, and many more.
Again, my goal is to help you save time, money, and effort. Your time should be spent on creating the content and generating traffic to your blog.
Sorry for the long intro! I had to do it. Let's get ready to start your blog.
1. How to choose your niche
What is a niche?
Simply put, a niche is the topic of your blog.
Let me give you some examples.
Here at Simplebutcreative Media, I'm going to be writing about these topics:
How to start a blog
The best sources to generate traffic for your blog
How to monetize your blog
Email marketing
Affiliate marketing
Everything about WordPress
I gave you a couple of examples but I'll be touching on more ideas.
Everything falls under a general niche called internet marketing.
The topics listed above are what you call sub-topics or sub-niches of internet marketing. These topics are so big, I can dedicate a blog for each one.
For example, the "how to start a blog" topic is so big I'll never run out of content ideas to write about. That niche is only getting bigger and bigger each year which means it'll be worthwhile for me to create content for it.
You can check out my content roadmap for upcoming articles. I have experience and intimate knowledge regarding all the topics above and more so stay tuned.
By the way, you don't have to be an expert to start a blog. I'm not!
As long as you're passionate about certain topics gives you an edge which will make it easy to share it with the world.
My edge is that I've been around this stuff longer. That's all!
I've just recently finally decided to start a blog after all these years. I should've started one a long time ago but here I am. There's no looking back.
Stay with me!
So what's your niche?
Is this stirring up your noggin a little bit?
Your niche can be just about anything you can think of.
Whether it's:
Digital Marketing
CrossFit Training
Keto Recipes
Movie Reviews
Anime
Outdoor Camping
Rock Climbing
Hiking
Paleo Diet
There are an endless amount of things to blog about.
Let me give you the best approach to finding your niche. This might sound familiar if you've done some research about blogging before.
Most seasoned bloggers will tell you to start with something you're passionate about because it'll help you stay consistent and keep on pushing through failure after failure until you hit a milestone.
I definitely agree with that idea.
Honestly, If I didn't like what I do I would've quit a long time ago.
But consider this, even if you're super passionate about your niche you won't be able to keep it up forever. The reality is that you need some kind of validation for your work. I'll expand more on this throughout the guide.
The 1st step is to identify what you're passionate about.
Feel free to brainstorm and list all the things you're into. Everyone has their own way of doing things. I personally jot down my ideas on my laptop using some kind of text document program. Then at the end of the week, I transfer them to an online service called notion to keep everything organized.
How about you? What do you use? Let me know by leaving a comment below after reading the guide.
When you're brainstorming ideas please be specific but not too specific. You need to be a specialist. Don't be a jack of all trades and a master of none. You can be a jack of all trades when you've mastered at least one topic.
Let me do my best to explain.
Let's say you're in the fitness industry. I don't care if you've been in the fitness industry for 20 years, you couldn't possibly know everything about fitness. There's always a path (sub-niche) an individual takes because they've either been exposed to it or can relate to it in some way.
For example, you get into CrossFit training and you really love it. You explore and learn everything there is to know about CrossFit.
That's an example of being specific but not overly specific. You basically need to stay in the middle.
Now extrapolate this to pretty much all industries and niches.
For Simplebutcreative Media, our industry is internet marketing. That's way too vague and broad just like fitness. So we chose "blogging" as our main topic of discussion.
Does this make sense?
Check out the diagram below. This is for bloggers in the fitness industry.
What if you're a movie or tv show buff? Here's a diagram for potential niches you can blog about.
You can literally blog about anything your heart desires. There's really no right or wrong answer here.
I think the wrong approach is to blog about random topics that are unrelated. An example of this is to take the "lifestyle blogger" approach where you literally blog about everything under the sun. Have you come across these types of bloggers before?
The only way that approach will work and actually make you money is if you already have an audience on social media or if you know search engine marketing (SEM) or both.
If you're a newbie and you take the "lifestyle blogger" approach it'll take you a really long time to get any form of validation. Again, no matter how passionate you are about a certain topic but if you're not getting validated in some shape or form you will eventually fail.
What is this validation stuff you're talking about?
A validation for you could be as simple as your 1st dollar ever made on your blog or even someone leaving a comment on one of your blog posts. Your blog posts are being shared on social media is another example.
This 1st step shouldn't be complicated at all. I know people might have the tendency to complicate things.
If this doesn't make sense to you please don't hesitate to reach out to me. I'll help you figure out your blog topic. I'll be writing dedicated articles for each of the steps I listed in the near future. Bookmark our content roadmap page for reference.
2. How to pick your blog name
Choosing your blog name or brand name is one of the most important steps toward your blogging success.
It's your identity whether you're online or doing business in person. This is how you'll be remembered whether you do good or bad in the world.
This is your brand.
Now, here's my process of how I come up with great (or at least I think so) website names for any business ideas in the future. I'll try my best to keep it super simple.
When I think of launching a new brand, I think of the most popular companies in the world.
Let me give you some examples:
WordPress
Squarespace
Shopify
Pinterest
Starbucks
Twitter
Canva
Appsumo
Twitter
Instagram
Techcrunch
DigitalOcean
ConvertKit
Linktree
and many more
So why have I listed all these brands?
Every time I think of ideas for a new website or business, I have a list of brands I keep in mind to draw inspiration from and get my creative juices flowing.
The 1st thing I do before I start designing a website is to come up with a brand name.
A good brand or website name should be:
Short and sweet
Easy to remember
Memorable in some ways
You can use a business name generator like namelix to help you come up with some ideas. Type in a keyword or two and let their AI-powered tool do the rest.
3. Why WordPress is the best blogging platform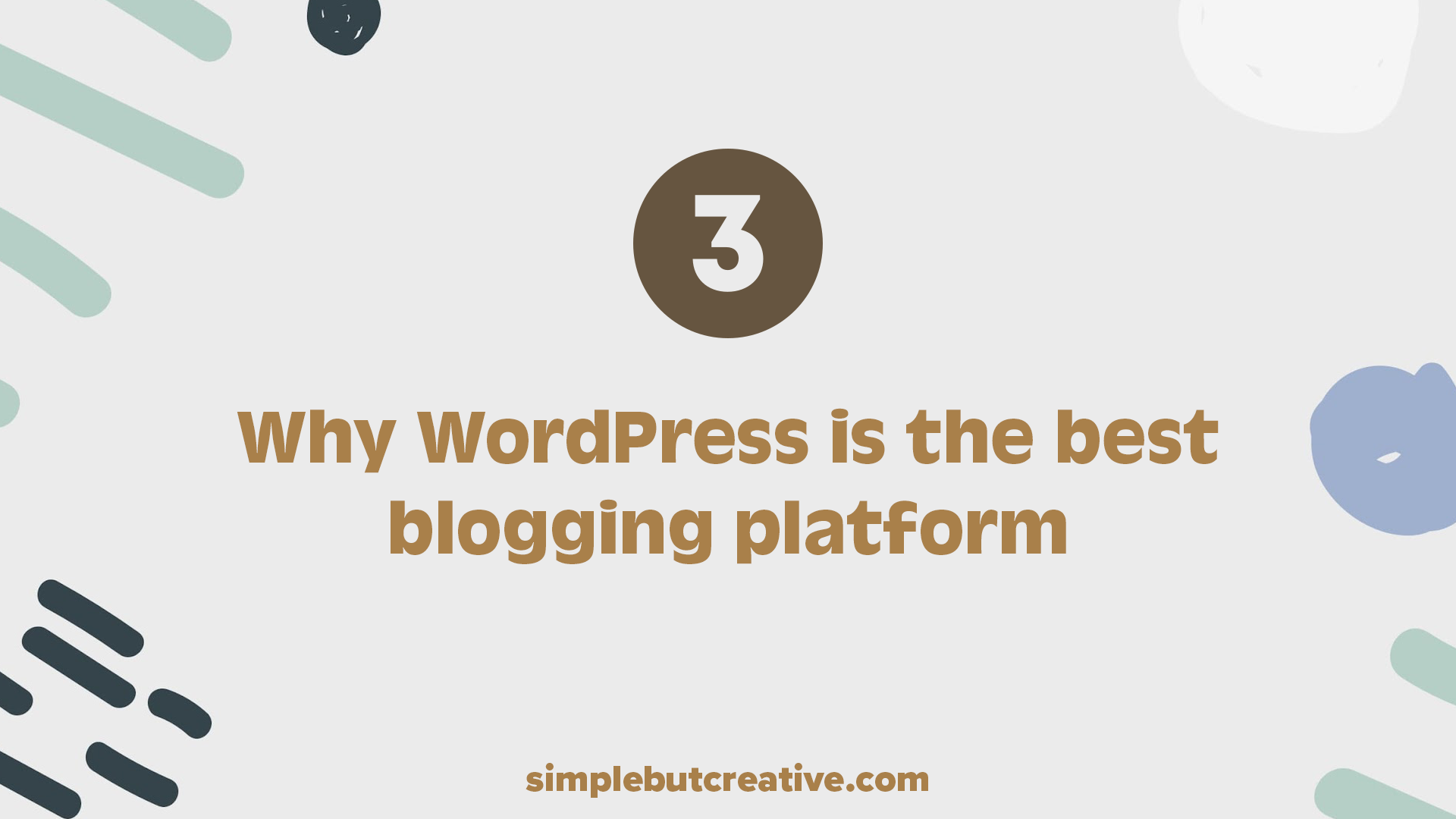 WordPress is the only blogging platform you'll ever need.
It's the best blogging platform for new bloggers and seasoned bloggers alike.
Out of hundreds and thousands of blogging platforms out there, WordPress reigns supreme.
If you don't intend to use WordPress from the beginning then this guide is not for you.
So what is WordPress?
WordPress is an open-source, content management system used to manage, maintain, and build websites.
4. Choosing the best WordPress hosting provider
Coming soon…
5. Choosing the best WordPress theme
Coming soon…
6. How to set up your blog properly for content creation
Coming soon…
7. How to write your 1st blog post
Coming soon…
8. Best traffic sources to promote your blog
This is the most important step of all.
Every business in the world whether you're running a brick-and-mortar, e-commerce, or blog needs traffic. You can offer the best products, best services, best whatever but if you don't know how to generate traffic for your products and services you will fail. You will ultimately quit in the end.
Before we continue, let me clarify a couple of things for you.
When I say a business needs traffic, I'm referring to potential customers looking at your products and services. You need consistent eyeballs looking at your stuff or else you'll never sell anything.
Think of traffic like oxygen. What happens if oxygen suddenly disappears? Humanity will cease to exist. Without traffic, your business whether it's online or brick-and-mortar will not survive.
This step is so important I'll be creating dedicated blog posts for each of the traffic sources mentioned below in the near future. Please refer to our content roadmap for more info. With that being said, I'll try to keep this step short and sweet.
So what are the best traffic sources?
There are so many ways to approach this. But I'll be focusing on a couple of platforms that I deem the best traffic sources for any online business based on my experiences.
The best platforms to use to grow your blog are Google Search, Pinterest, YouTube, Quora, Medium, and Reddit. These are based on my professional opinion. I'll update this list as our blog grows. Also, I'll be writing tutorials on how to utilize each platform to generate traffic to your blog in the near future.
I'm going to separate each platform I listed and more into 3 different categories.
Major traffic source:
Google Search
YouTube
Pinterest
Minor traffic source:
Quora
Medium
Reddit
Linkedin
TikTok*
TikTok is part of this list mainly because it's fairly new. You can still get traction fairly quickly given that you're posting on a daily basis.
Waste of time traffic source (not a waste if you already have a substantial follower base):
Instagram
Twitter
Facebook
I'm going to list some facts for you below.
Google Search Engine:
Here are some Google search engine statistics for 2022 and beyond.
Google is the most visited website on the entire planet.
Google controls over 90% of the global search engine market.
Google processes almost 70,000 search queries every second.
Over 50% of the world's population actively uses the Google search engine.
Google search engine processes up to 20% brand new keywords every year.
Over 30% of product searches in the world start on Google.
9. Learn search engine optimization (SEO)
Google is the best traffic source for any business in the world hands down. Over 60% of all traffic from the web comes from search engines like Google, Bing, Yahoo, and YouTube. Search engines generate 10x more traffic than any social media platform.
With that being said, how can you harness the power of Google search?
Let me give you a disclaimer. I'm not an SEO professional by any means. It's not my forte. The only edge I have over a newbie is that I've been around it longer. I'll reference a couple of websites for you to check out and learn from.
What is SEO?
SEO is short for search engine optimization.
Have you heard of this term before?
10. How to make money with your blog
Coming soon…